Serviced apartments have become increasingly popular in recent years, particularly for travellers who prefer a more independent and flexible approach to accommodation. These types of apartments are typically fully furnished and offer hotel-like amenities, but with more space and a home-like feel. But with so many different types of serviced apartments, it can be hard to know which one is right for you. In this article, we will help you understand different types of serviced apartments, so you can make an informed decision.
But before we start explaining the differences, let's first cover some common features which must be there for an accommodation to qualify as a serviced apartment. These are:
Fully furnished- All serviced apartments come fully furnished. These include furniture and appliances that you'll find in a typical home.
Services- to qualify as a 'serviced' apartment, the operator must offer a minimum level of services. These include a help desk, daily or weekly housekeeping, and linen change. While these services come included in the price tag, many serviced apartments also offer pay-per-use or membership-based services as well like laundry / dry cleaning, breakfast or access to a swimming pool, gymnasium etc.
Kitchen or Kitchenette- all serviced apartments come with their own fully equipped kitchen or kitchenettes to help the guests to cook their own food, if so wished
Non-sharing basis- serviced apartments by very definitions are the non-sharing basis. Meaning, the living areas are exclusive for the guests like a hotel suite.
Also read: What is a Serviced Apartment- The Ultimate Guide for 2023 to know more about serviced apartments.
Differences by Building Type:
Branded Aparthotel Building
These serviced apartments are located in a dedicated 'branded' building operated by a hospitality brand. Various brands by The Ascott Limited are a typical example of such a serviced apartment brand. These combine hotel services and apartment-like suites and rooms.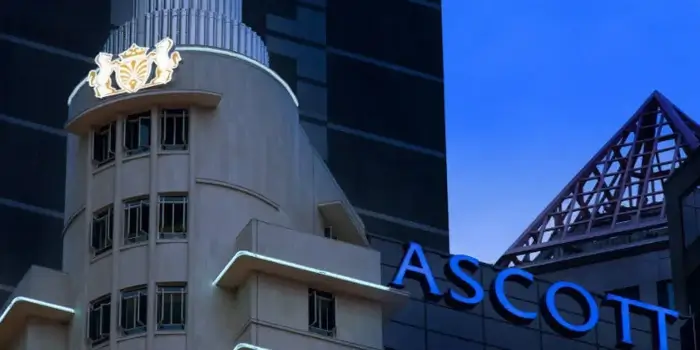 Such branded serviced apartments are known for the high standards of service and quality that the brand stands for. Typically, in addition to usual hotel services like housekeeping, laundry, etc., these also offer communal lounges, meeting rooms, concierge etc, though these may differ depending on the brand of the serviced apartment.
Generally, these are priced in the premium to luxury category. And though they may cost lesser than a hotel, are considered less cost-effective for longer stays and more expensive than other types of serviced apartments.
Best suited for: Discerning business travellers, luxury vacationers
Ideal Duration: 2 nights to 21 nights
Serviced Apartment Building
These fully managed serviced apartments are housed in building blocks developed for the purpose and are managed by a hospitality operator that markets and provides hotel-like services. Such serviced apartments offer impeccable interiors and a bouquet of services like housekeeping, laundry, help desk etc. Most of these have access to on-site facilities like a swimming pool, gymnasium, and reception desk, and may have a restaurant too. More often than not, such buildings also have retail and office areas. Osaka Serviced Apartments housed in The Peach Tree, Sushant Lok-1, Gurgaon is one such example.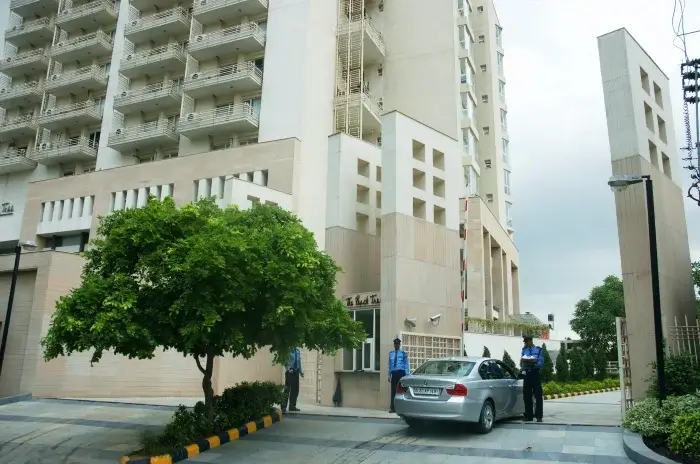 These serviced apartments offer the right mix of security, convenience, comfort and privacy, and are sought after by expats and business travellers for short to long-term stays.
Best suited for: Expats, business travellers, corporate housing
Ideal Duration: 30 nights to 11 months stay (renewable thereafter)
Individual Units in a Residential Complex
These serviced apartments are housed in residential gated communities or complexes with mostly off-site management style. By virtue of their location, these often come with children's play areas landscaped greens, and car parking. Additionally, these may offer access to common facilities in the development like, a gymnasium, clubhouse, swimming pool etc, basis the membership requirements. The operator offers bare minimum services like setting up of the apartment, internet connection, satellite TV, gas connection etc. Depending on the operator or the terms of the agreement, weekly or daily housekeeping may be provided.
Best suited for: Families of company executives, expat families or those looking for budget-friendly fully furnished apartments.
Ideal Duration: Only a minimum of 11 months company lease is allowed for such apartments. Short-term stays are illegal in such residential developments.
Standalone Houses
Gurgaon has witnessed a mushrooming of these types of serviced apartments which often blur the lines between serviced apartments and guest houses. These are operated from standalone houses built in plotted developments. And may come with a reception or help desk, and common areas like dining room, lounge, and central kitchen.
Such serviced apartments often lack the amenities, security, and design finishing offered by other types listed above. But what they lack they make up in pocket friendly per night price.
Best suited for: vacationers, corporate employees, students and medical tourists
Ideal Duration: 2 nights to 30 nights
Differences Based on Space & Layout:
Irrespective of the types listed above or the duration of the stay, a serviced apartment may offer either one or more types of accommodations based on space and layout:
Studio Apartments
A studio apartment is a small apartment that usually consists of a single room that serves as a living room, bedroom, and kitchen. Studio apartments are typically less expensive than larger apartments and offer basic amenities such as a bed, a bathroom, and a kitchenette.
Best suited for: These are ideal for solo travellers or couples who are looking for a cosy and affordable accommodation option.
One Bedroom Apartments
One bedroom apartments are larger than studio apartments and typically have a separate living area and bedroom. One bedroom apartments often come equipped with a full kitchen and basic amenities such as a washer and dryer.
Best suited for: They are suitable for solo travellers or couples who are looking for a bit more space and privacy.
Two-Bedroom Apartments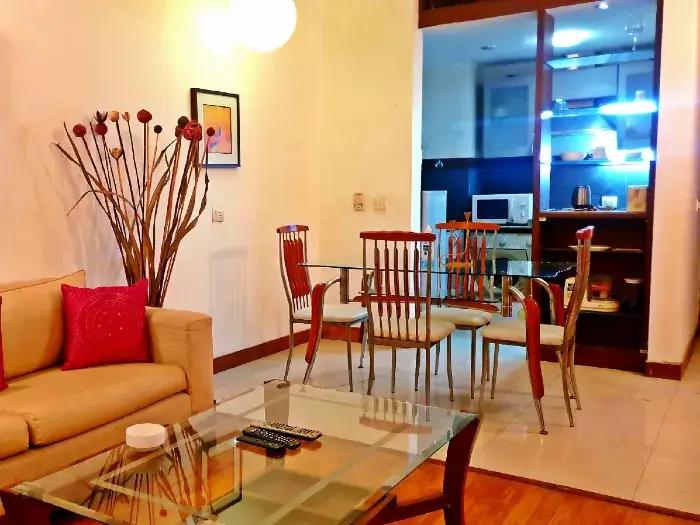 Two-bedroom apartments are larger and typically have two separate bedrooms, a living area, and a kitchen. Two-bedroom apartments often come equipped with additional amenities such as a balcony or terrace.
Best suited for: They are ideal for families or groups of friends travelling together who need even more space and privacy.
Also read: Want best serviced apartment for rent? 13 factors to consider
Differences Based on Management:
On-site Managed serviced apartments
These serviced apartments have their support staff on the site who actively manage the property and actively assist guests with any requests or challenges.
Best suited for: anyone who values prompt support and convenience, if needed
Off-site managed serviced apartments
These serviced apartments do not have any staff on the site. In the case of services like housekeeping, the staff leaves the complex after the job is done.
Best suited for: anyone who values a high degree of privacy and autonomy
Conclusion
Serviced apartments offer a cost-effective and comfortable alternative to traditional hotels for corporate travellers, expats, relocating families or professionals as well as vacationers and medical tourists. There are different types of serviced apartments available to cater to different needs and budgets. Each type of serviced apartment has its unique advantages, and you can choose the one that suits your needs best. When looking for serviced apartments in Gurgaon, be sure to research and compare the options available to find the perfect accommodation that meets all your requirements.