As an expat, business traveller or a business looking for corporate housing for employees, finding comfortable and safe accommodation can be a daunting task. Hotel rooms can be expensive, and living out of a suitcase can be uncomfortable. This is where serviced apartments come in. But, have you ever found yourself asking what is a serviced apartment; who are these for; what are the benefits of serviced apartments… Well, here we are to help you find answers to these questions and many more.
In this guide, we will deep dive into service apartments meaning, amenities, benefits and reasons why these should be on your list when planning your next travel. Our endeavour here is to help expats, business travellers and corporate administration make an informed decision.
What is a Serviced Apartment?
A Serviced Apartment (alternatively spelt as Service Apartment), is a self-contained, non-sharing, professionally managed and fully furnished apartment for long stays or short stays. These are are also known as extended stay hotels, apart-hotels or apartment hotels. A serviced apartment typically offers the same services as hotels, such as housekeeping, front desk service, and 24-hour security, but with more space, privacy, and home-like amenities. Serviced apartments can be found in major cities around the world, often in prime locations that are convenient for business travellers and expats.
Who are serviced apartments for?
Serviced apartments are suitable for a variety of people, including: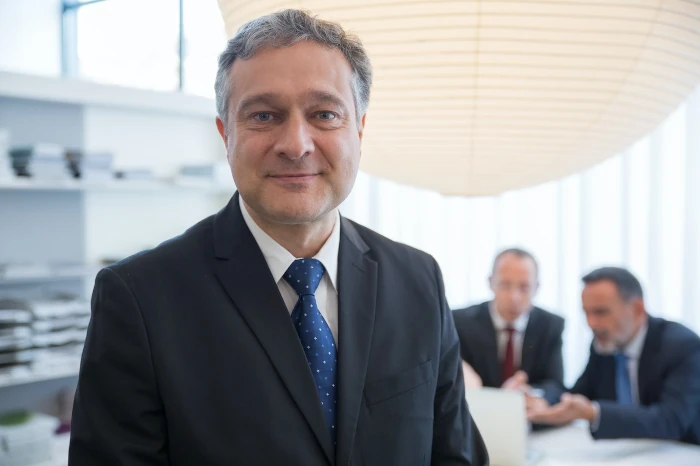 Business Travellers:
Serviced apartments are a popular choice for business travellers who require temporary accommodation for short stays of a few days or weeks. These provide the comfort and convenience of a home, with the added benefit of a professional management team to ensure that your stay is comfortable and hassle-free.
Expats
Serviced apartments are an ideal option for expats relocating to a new country and requiring a home away from home to settle in. Professionally managed serviced apartments provide a sense of security and peace of mind to the expats trying to get accustomed to the new environment while getting on with their business from the word go. Amongst the myriad facilities and amenities provided by these, the ability to cook their home recipes in the comfort of their apartments is perhaps the most treasured convenience for the expats.
Tourists
Serviced apartments are a great alternative to hotels for tourists who want more space and flexibility during their travels, especially when travelling for a longer duration. These serviced accommodations offer a comfortable and private living space, allowing tourists to relax and unwind in a home-like environment as well as cook their meals if and when they want to.
Families
Serviced apartments are an excellent option for families who require a home away from home while travelling or relocating to a new city. These can cost-effectively accommodate your entire family and are perfect as go-between relocation housing. These offer spacious and comfortable living spaces, complete with all the necessary amenities and facilities to the delight of every family member.
Medical Tourists
Fully furnished serviced apartments for medical tourists offer comfortable, clean, hygienic and budget-friendly accommodations to such travellers seeking treatments in medical hubs like Gurgaon and Delhi. These prove to be far more cost-effective and spacious than hotels and offer amenities that provide much sought peace and privacy for the families. Often located near super speciality hospitals, these also offer savings in terms of travelling time and cost.
What are the benefits of Serviced Apartments over hotels?
Serviced apartments have become a preferred accommodation option for travelling executives, company employees, vacationers and medical tourists alike because they offer unique advantages like more space, independence and cost-effectiveness. By choosing a serviced apartment over a traditional hotel room, you can enjoy a home-away-from-home experience that is both comfortable and functional. Whether you are staying for a few days, a few months, a year or even more, a serviced apartment can be an excellent option for the following reasons:
More Space
One of the biggest benefits of serviced apartments is the extra space they provide. In a hotel, you pay for a room meant to give you some rest on your travels whereas serviced apartments offer a complete unit or an apartment to yourself. Traditional hotel rooms can feel cramped, with little room to move around or relax. Serviced apartments, on the other hand, offer separate living and sleeping areas, and often a dining area as well. This extra space allows you to live and work comfortably during your stay, making it a great option for business travellers, expats and corporate housing for employees.
Privacy
Another advantage of serviced apartments is the level of privacy they provide. In a hotel, you may have to walk through a lobby or communal area to get to your room, which can be inconvenient or even uncomfortable. In a serviced apartment, you have your own front door and can come and go as you please without having to interact with anyone else. This level of privacy can be particularly important for expats who may be adjusting to a new culture and lifestyle.
Fully Equipped Kitchenettes
Most serviced apartments come with a fully equipped kitchen or kitchenette, allowing you to cook your own meals and save money on eating out. This is particularly useful for expats and company employees staying for an extended period, who may not want to eat out every night. With a kitchen at your disposal, you can cook your favourite meals, try out new or home recipes, and even entertain guests if you wish. Not only is this more cost-effective, but it can also be a healthier and more enjoyable way to eat.
Cost-Effective
Serviced apartments can be more cost-effective than traditional hotel rooms, particularly for longer stays. Additionally, you can save money by cooking your own meals and not having to pay for laundry services. Some serviced apartments offer discounts for longer stays, which can make them an even more attractive option for expats, business travellers and corporate housing.
Flexibility
Serviced apartments offer a level of flexibility that traditional hotels cannot match. With a fully equipped kitchen and separate living and sleeping areas, you can eat, live and work on your own schedule. This can be particularly useful for expats and business travellers who may have different working hours or who need a quiet space to work from home. Also, many serviced apartments offer flexible check-in and check-out times, which can be useful if you have a late flight or an early meeting.
What are the Types of Serviced Apartments
There are different types of serviced apartments available, depending on your needs and budget. Here are some of the most common types: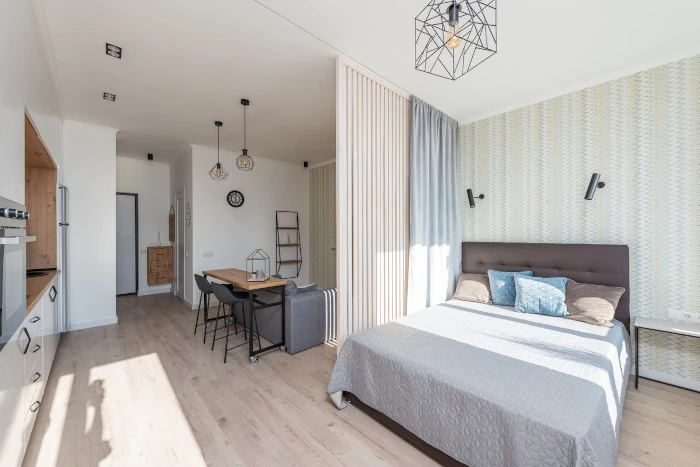 Studio Apartments
Studio apartments are a great option for solo travellers or couples who need simple and affordable accommodation. They usually have a bedroom, living room, and kitchenette in one open space.
One-bedroom Apartments
One-bedroom apartments or 1 BHK apartments offer more space and privacy than studio apartments and are suitable for couples or small families. They have a separate bedroom, living room, and kitchen.
Two-bedroom Apartments
Two-bedroom apartments or 2 BHK apartments are ideal for families or groups of friends travelling together. They have two separate bedrooms, a living room, and a kitchen, offering more space and privacy.
Also read: Confused about Types of Serviced Apartments? This is for You! to know about more types of serviced apartments.
What Amenities are Offered by Serviced Apartments?
Serviced apartments offer a bouquet of amenities and facilities that are typically expected from hotels and much more. Many of these may come included in your package depending on the negotiated terms and period of stay. Others could be availed on pay per use or membership basis. Below are a few of the key amenities offered by most of the serviced apartments:
24X7 Security
Serviced apartments offer 24X7 security with camera surveillance and professional manned security. This is essential to the peace of mind of all guests.
24X7 Help Desk
Serviced apartments offer round-the-clock help desks for the assistance of their guests at all times. This help desk or concierge is an essential service, not only to help guests with any issues in their apartments but also can offer valuable advice and assistance that any guest may need.
100% Power Back-up
Serviced apartments generally offer 100% power backup so that in times of outages and power failures, the guests can continue with their work and lives smoothly without disruption.
Wi-Fi and High-Speed Internet Access
Serviced apartments are attuned to the requirement for corporate housing and business travellers and therefore provide Wi-fi and High-speed Internet access throughout the stay of the guests.
Smart TV and entertainment
Serviced apartments offer guests world-class entertainment with Smart TV. With these, guests can enjoy a bouquet of programs and channels from across the world in many languages.
Housekeeping
Many serviced apartments offer daily or weekly housekeeping services, so you can enjoy a clean and tidy living space without having to do the cleaning yourself. This can be a real time-saver, particularly if you are busy with work or exploring a new city. Knowing that your apartment will be cleaned regularly can also help you feel more relaxed and comfortable during your stay.
Laundry
Serviced apartments with laundry facilities include washing machines, drier, iron, ironing boards etc within your unit which helps you to take care of yourself conveniently. Additionally, many serviced apartments also offer dry cleaning services.
Breakfast
Many serviced apartments also offer breakfast service, especially for long-term guests. This can be part of the packaged deal or can come as a long-term booking advantage. Breakfast can be Indian, Continental or Japanese, depending on the serviced apartment.
On-site Health & Leisure facilities
Many serviced apartments have on-site health and leisure amenities like a well-equipped gym, well-maintained swimming pool or small café or a restaurant as an added luxury for its guests. These can be on a membership basis or part of the packaged deal.
On-call services
Luxury serviced apartments also offer on-call services for the convenience of the guests as part of the packaged deal or pay-per-use basis depending on the services required. These include on-call cooks, drivers and even nannies for the travelling families.
At Osaka Serviced Apartments, we offer a range of amenities for the comfort and convenience of our guests.
What Factors to Consider When Choosing a Serviced Apartment?
Location
Location is one of the most important factors to consider when choosing a serviced apartment. Choosing an apartment that is located close to your workplace, or any other place you visit regularly and that has a thriving social infrastructure around, will mean a world of convenience to you. See to it that you have easy access to places like shopping centres, grocery stores, hospitals, chemist shops, banks, ATMs, restaurants etc, for a comfortable stay.
Size and Layout
The size and layout of the serviced apartment are also essential factors to consider. You'll want to ensure that the apartment is large enough to accommodate you and your family comfortably. The layout should also be practical, with enough storage space and should be suitable to your lifestyle.
Budget
Also, another important factor when choosing a serviced apartment is your budget. Choose an apartment that fits within your budget and that will offer you good value for your money. It's also essential to consider any additional costs, such as utilities, parking, taxes etc.
Security
Security is another critical factor when considering a serviced apartment to rent. Make sure that the serviced apartment has an advanced security system with camera surveillance as well as manned security. Also ensure that the apartment has secure access, such as key card entry or a doorman, and that there are security cameras or guards on the premises.
Length of Stay
Think about how long you will be staying in the serviced apartment and whether it offers flexible lease terms. Some serviced apartments require a minimum stay of one month, while others offer daily or weekly rates.
Amenities
Another factor to consider is the amenities offered by the serviced apartment. Ensure that the apartment has all the amenities you need to make your stay comfortable, such as a fully equipped kitchen, high-speed internet, and a gym or pool. Some serviced apartments may also offer additional amenities, such as laundry or call-on services.
Lease Terms
It's crucial to read the lease terms carefully before signing a contract for a serviced apartment. You'll want to ensure that you understand the terms and conditions of the lease, such as the length of the lease, payment terms, and any penalties for breaking the lease.
Maintenance and Housekeeping
Maintenance and housekeeping are other factors to consider when choosing a serviced apartment. Opt for a professionally managed serviced apartment with an on-site and professional facility management team to ensure that the apartment and premises are well-maintained and that any issues or repairs are addressed promptly. Housekeeping services should also be provided regularly, and you'll want to ensure that the apartment is clean and well-maintained during your stay.
Pet-Friendly Policies
If you're travelling with a pet, you'll want to ensure that the serviced apartment has pet-friendly policies. Some apartments may have restrictions on the size or number of pets, and there may be additional fees or deposits required. Be sure to check the pet policies before booking a serviced apartment.
Noise and Distractions
Noise and distractions can be a significant issue when staying in a serviced apartment. Ensure that the apartment is located in a quiet area. You may also want to consider the proximity of the apartment to noisy areas, such as bars or clubs.
Reviews and Recommendations
Reading reviews and recommendations from previous tenants can be an excellent way to gauge the quality of a serviced apartment. You can check online review sites or ask for recommendations from friends or colleagues who have stayed in serviced apartments in the area.
Personal Preferences
Finally, it's important to consider your personal preferences when choosing a serviced apartment. You may have specific requirements or preferences for the apartment, such as a certain style or decor. It's essential to choose an apartment that meets your needs and makes you feel comfortable during your stay.
Also read: Want best serviced apartment for rent? 13 factors to consider
How to Book a Serviced Apartment?
Directly with the Serviced Apartment operator
Many serviced apartment operators offer units through their website or reservation channels. Or they may offer better rates if booked directly. At Osaka Serviced Apartments we book through
Online Travel Portals
Online travel portals or online travel agencies like Yatra.com Booking.com, and Makemytrip.com are a few of the most reputed online portals to book your serviced apartments.
Corporate Travel Management Agents
Many businesses use a corporate travel agencies or also known as Business Travel Management Companies (BTMCs) to manage travel for employees and executives. Here is a list of some of the best known corporate travel management companies.
Conclusion
Serviced apartments are a popular choice for business travellers, expats, and corporate housing. Staying at a serviced apartment means that you are offered a comfortable and cost-effective solution for long stays or short. They offer all the comforts of a home, including a kitchen, living room, and bedroom, and are typically more cost-effective than hotels. With the right preparation and research, you can find the perfect serviced apartment that meets your needs and budget. Remember to consider factors such as location, amenities, price, and length of stay when choosing a serviced apartment, and take advantage of the home-like amenities to make your stay as comfortable and productive as possible.
Hope this article has helped you understand what is a serviced apartment, what staying at a serviced apartment means, the benefit of serviced apartments and how to go about booking a serviced apartment for rent.